Brenna Moyer was working at a veterinary hospital near her home in Olympia, Washington, in April 2019, when Feline Friends, the rescue she volunteered with, brought in a seven-month-old cat who had just had a seizure. The kitten, who had been named Mystery by her foster family, was wrapped up in blankets and in a kennel in the clinic's treatment area when Brenna saw her for the first time.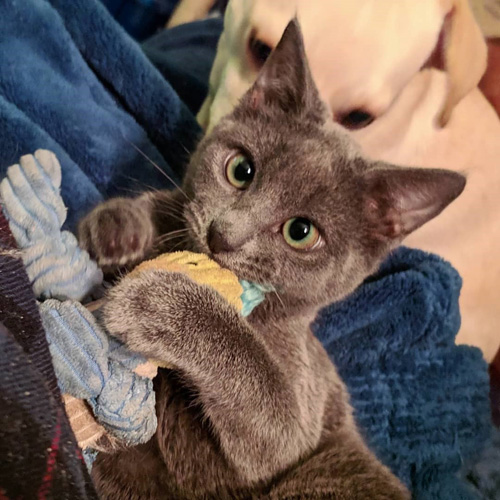 "When I peeled the blankets slowly back so as not to startle a seizure patient, the most stunning adolescent slate grey cat with luminous, glowing green crossed eyes peered up at me with a huge pink blep," remembers Brenna. "She did not look sick or disabled at all! I was instantly smitten, and said she was the most beautiful kitten I'd ever seen."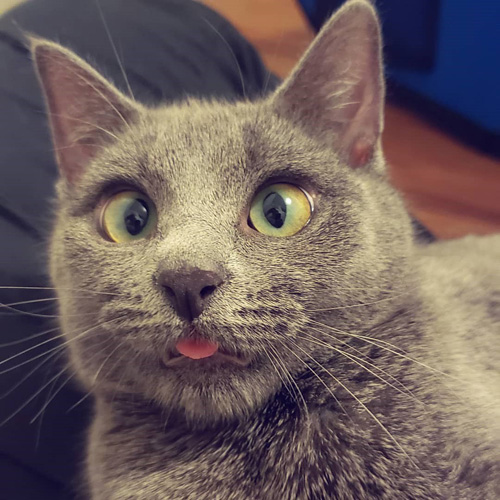 While Mystery didn't look unwell, Brenna discovered the beautiful grey cat was born with neurological issues that affected her balance, making it difficult for her to eat on her own, and prevented her from being able to use a litter box.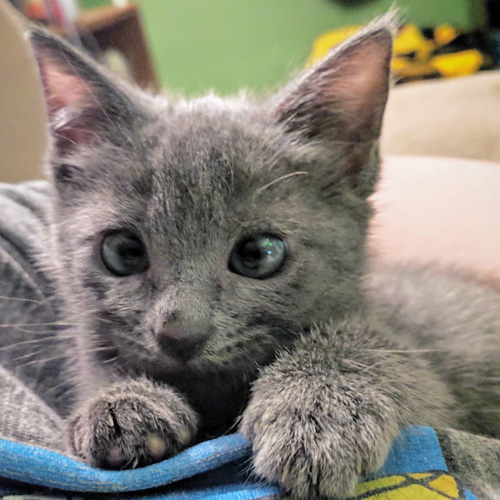 She also learned the seven-month-old kitten had never meowed, and she didn't behave like an average cat, nor did she understand typical feline communication. "With the new health concern and her history of neurodivergent behavior, the rescue feared she had a brain condition that would deteriorate, and worried about her quality of life," says Brenna.
Even though Mystery's foster family, who had been caring for her since the moment she was born in their home, had given her an excellent start in life, the rescue was concerned the seizures and their underlying cause might require the young feline to eventually require more care than they would be able to provide.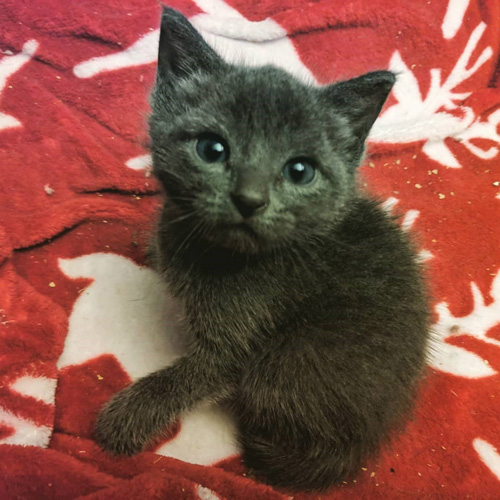 Thankfully, Brenna had a lot of experience caring for special needs animals — including cats with cerebellar hypoplasia, a non-progressive neurological condition — so she offered to foster Mystery. "Already having a house full of special needs cats, I decided I would try to stabilize her condition and try to learn more about what was going on with her," explains Brenna.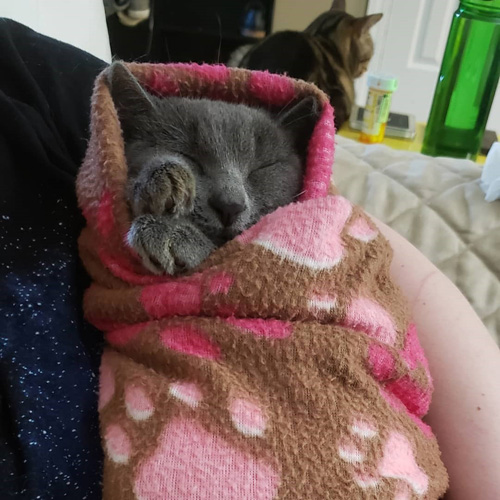 At her new foster home, Mystery continued to have frequent grand mal seizures, and everyone — including Brenna, the staff at the veterinary hospital, and the rescue — was concerned she might have a lysosomal storage disease, a group of inherited metabolic disorders. Sadly, lysosomal storage diseases progress rapidly, and affected animals usually die within a matter of months, so Brenna raised money using GoFundMe to pay for Mystery to have an MRI. "We needed an MRI to understand whether her brain would get worse or stay stable," says Brenna.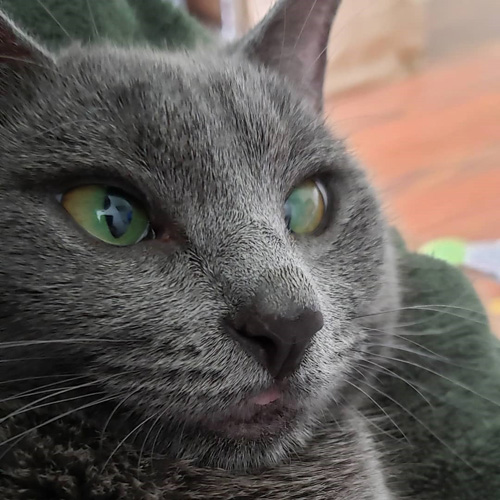 Thankfully, the MRI revealed Mystery didn't have a lysosomal storage disease, but she was diagnosed with hydrocephalus, an underdeveloped cerebellum and cerebrum, and epilepsy. Despite having multiple neurological conditions, none of them were progressive, meaning Mystery's brain would not deteriorate over time, and she was prescribed phenobarbital to help control her seizures. "Figuring out the best medication to control her seizures and the best way for her to take her medicine was a challenge at first," says Brenna, but she eventually discovered Mystery liked taking her phenobarbital in Greenies Pill Pockets, a treat designed to help conceal medication. "They will slide down [her throat] if she is being held like a baby, which she loves."
Fortunately, Mystery not only responded well to treatment, she found the perfect forever home when Brenna decided to adopt her! More than a year later, Mystery has only had a few breakthrough seizures since she started taking phenobarbital, and despite having a number of other birth defects — including an enlarged liver, an overbite, a spinal abnormality, and vision impairment due to strabismus, or crossed eyes — this gorgeous girl is thriving. "Mystery loves to cuddle more than anything!" says Brenna. "She will purr and fall asleep while being held like a baby."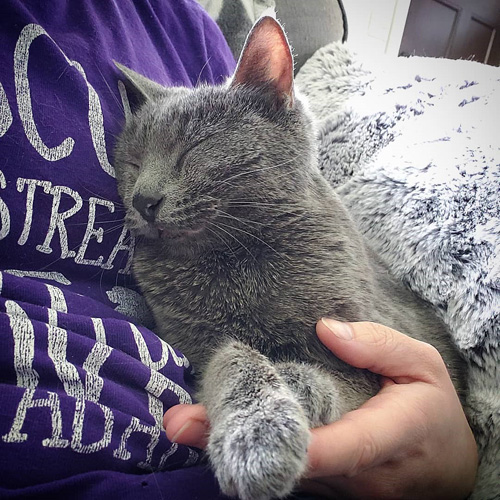 This special girl also adores giving her mom kisses and licking her hair, she enjoys chewing on toys and cardboard boxes, and she likes taking naps with the other cats who share her home. However, because Mystery doesn't behave like a typical feline, Brenna's other cats sometimes have difficulty understanding and interacting with her. "She runs up to them and bats their faces to say 'hi,' but they don't appreciate that," explains Brenna. "She doesn't speak cat — ear signals, body language, meows, and hisses are lost on her."
Also, due to her neurological issues, Mystery is unable to use a litter box, so Brenna expresses her bladder twice a day. However, contrary to what people might think, this beautiful girl isn't suffering, nor is she frustrated by her disability. "Mystery is in no pain, confirmed by her neurologist and all doctors, and is oblivious to her neurological differences," says Brenna. "She has always been the way she is, and she's perfectly content being this way."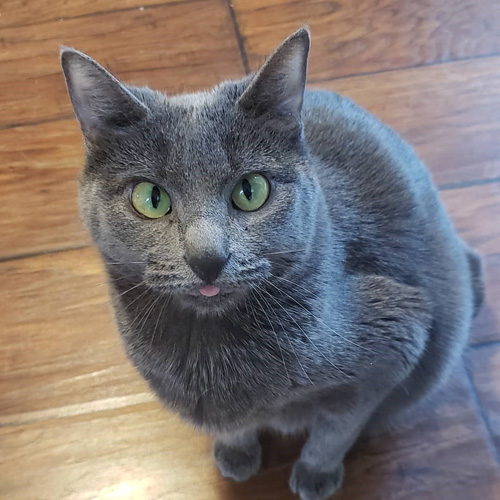 Without a doubt, Mystery definitely requires more care than the average feline, but her mom doesn't mind giving her the extra time and attention she needs to have a great life. After all, Brenna not only credits Mystery — and her other cats — with helping her get through a very difficult time with her mental health, she believes animals with special needs make exceptionally good companions. "Special needs cats and cats with hydrocephalus are some of the most happy, loving, and sweet cats you will ever meet!" says Brenna.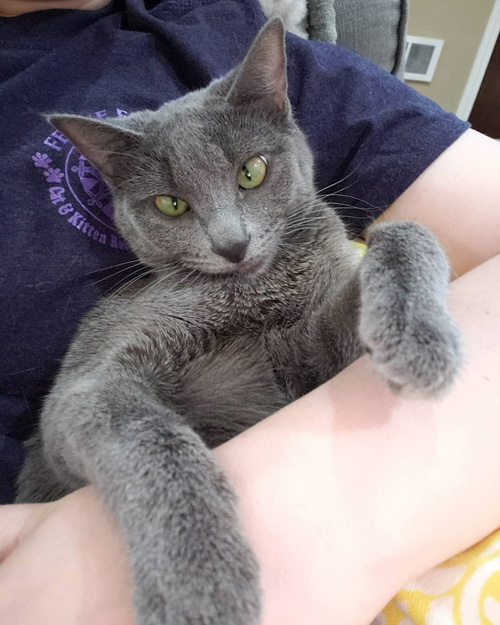 While she adores all of her cats, Brenna definitely feels a special connection with Mystery, and she's so thankful she decided to bring her home two years ago. Not only did this decision help Mystery get the answers and treatment she needed, it allowed Brenna to develop an unbreakable bond with this remarkable girl. "Mystery is my most special and precious baby," says Brenna. "Her dependency on me and pure innocence make her like an infant, and I would protect her to the end of the world. Her joy is like magic and is contagious, and her sweetness is to be treasured."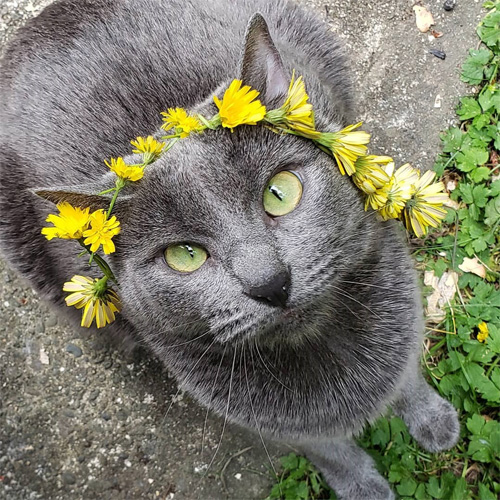 To learn more about this beautiful girl, you can follow Mystery on Instagram.