When Gabriela Campoy, a veterinarian in Seattle, was given the chance to foster Teapot, a six-week-old kitten who had been rescued from the streets in November 2020 by Alley Cat Project — an organization dedicated to reducing feline overpopulation — she was eager to help the young kitten.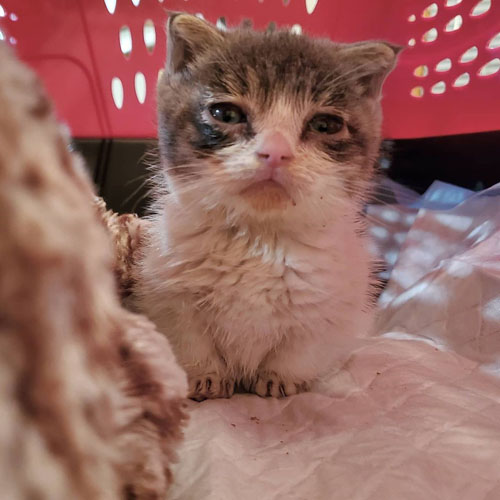 "Teapot was underdeveloped for his age when brought in by request of a person experiencing homelessness," says Gabriela, and due to concerns about his health, he was transferred to Seattle Area Feline Rescue (SaFE), an organization where her roommate Amy Mills works as the operations manager. "Teapot arrived as a failure to thrive kitten with unknown medical history."
A thorough exam revealed a number of medical issues, including an upper respiratory infection, constipation, and a severe roundworm infestation. "He had a huge belly, both from worms and constipation," remembers Gabriela. "He looked like a teapot!"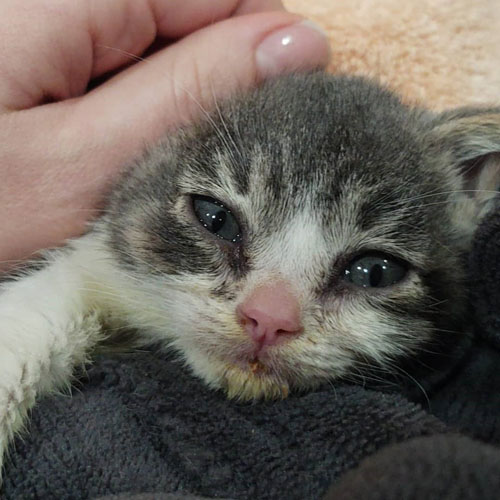 Unfortunately, Teapot's upper respiratory infection turned into pneumonia, and it took oxygen therapy and five different types of antibiotics for him to eventually recover.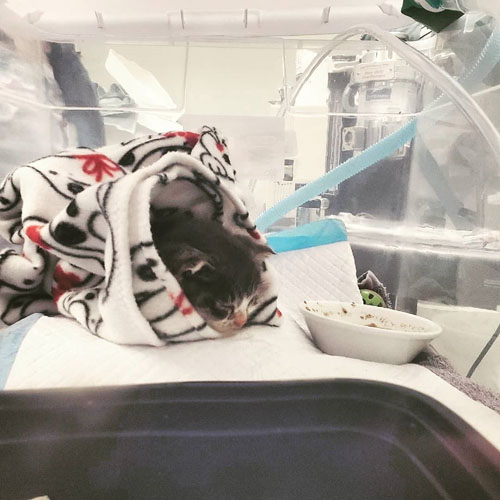 Soon after he was rescued, Teapot also had lab work done, and it revealed his thyroxine (T4) level was on the low end of normal and his thyroid-stimulating hormone (TSH) level was elevated, indicating hypothyroidism, or an underactive thyroid.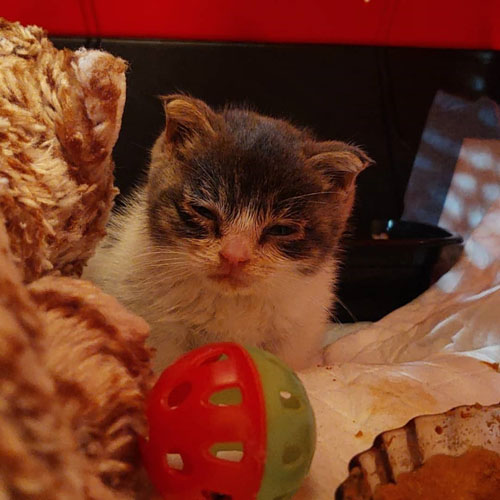 "At that point he was only short of a pound — approximately half of the size of his estimated age — very lethargic and cold all the time," says Gabriela. "He also had a facial and limb deformity, small ears with large eyes, hyperflexing joints, and underdeveloped muscles."
Shortly after he was diagnosed with congenital hypothyroidism, Teapot started taking medication, which helped alleviate many of his symptoms. However, being a veterinarian, Gabriela knew Teapot would need special care for the rest of his life, so she officially adopted him on January 15, 2021. "Once I realized it would be a lifetime commitment, I decided it would be better for him to stay in a place where that was fully understood," explains Gabriela.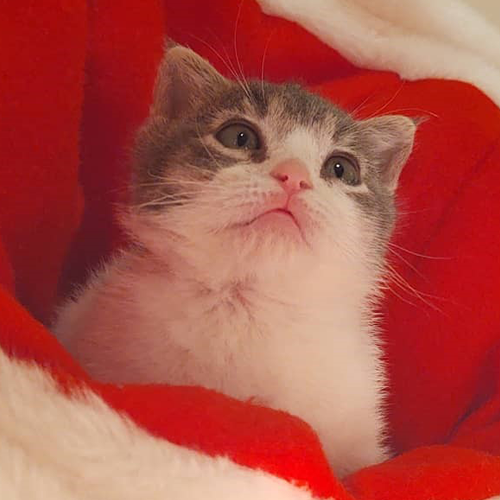 Since he first arrived at Gabriela's home, Teapot has doubled in weight, and he's doing significantly better than he was just a few weeks ago. "He still loves a heated blanket but at that time it was an absolute need!" says Gabriela. In addition to snuggling and napping, Teapot likes to play, especially with a wand toy and the two adult cats who share his family's home. He also enjoys sitting on Gabriela's shoulder or curling up in her jacket while the two of them go for walks.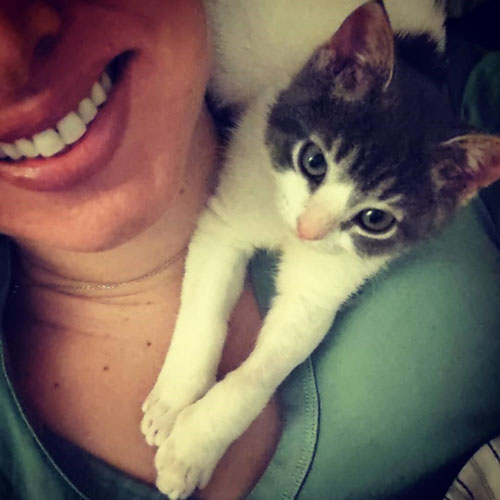 However, at just two pounds, Teapot — who is nearly four months old — is much smaller than he should be, demonstrating the limitations medication can have when it comes to treating congenital hypothyroidism. "He is still underdeveloped and will likely have joint, respiratory, and kidney problems throughout his life, despite the medication being really helpful now and him putting on more weight and looking more like a 'normal' kitten," explains Gabriela.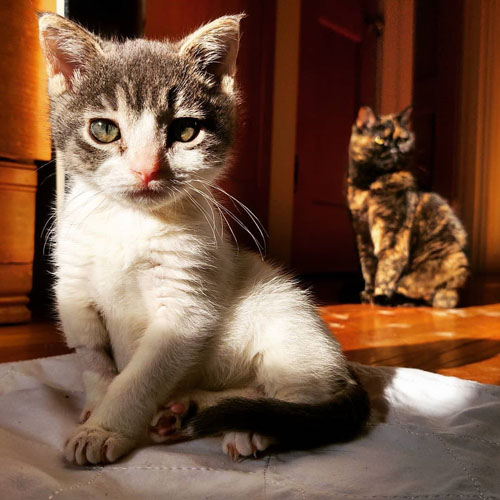 Fortunately, Teapot has Gabriela to closely monitor his health, ensuring this little kitten will receive the best possible care for his congenital hypothyroidism. In fact, Teapot is incredibly lucky because not all cats who are born with hypothyroidism live long enough to receive treatment or even a diagnosis. "Not a lot of vets see young kittens," says Gabriela, "and diagnosing rare diseases is really challenging and can take a huge toll on the fosters or owners who are insisting something is wrong."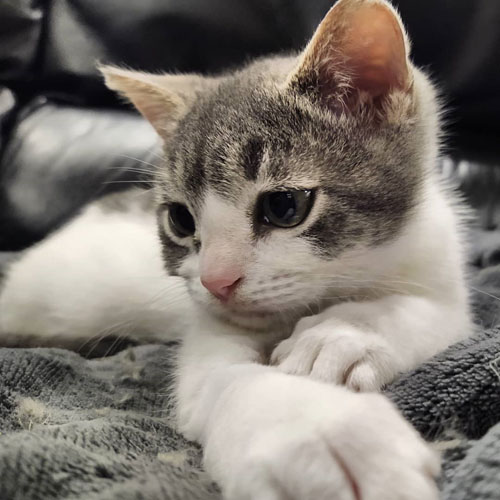 Consequently, Gabriela believes it's incredibly important for people to become advocates if they're caring for a young kitten who is failing to thrive. "If you have a little one struggling to grow and keep up, please ask your vet to investigate and invest some time trying to understand why that's happening," says Gabriela. "It might not be the common, day-to-day reasons."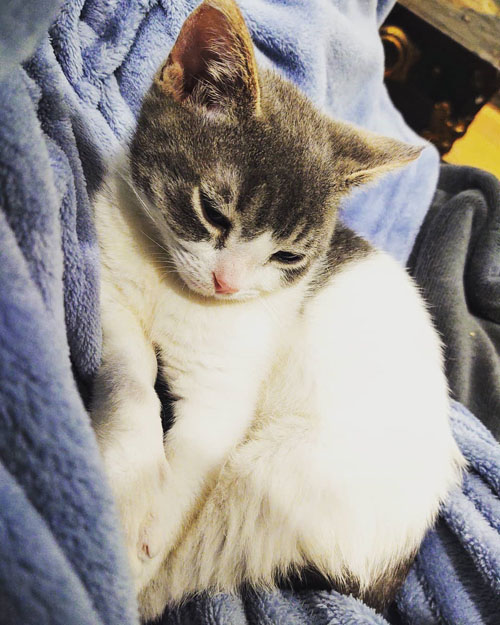 While it's impossible to say exactly what the future holds for Teapot, this special needs kitten is doing far better than he was when he was rescued from the streets in November 2020, and it's all thanks to Alley Cat Project, Seattle Area Feline Rescue, and Gabriela and her roommate Amy.
Even though she had no intention of adopting another pet when she met Teapot for the first time, Gabriela is grateful she gets to share her life with this extremely inspiring boy. "I thought I would be his home for a couple of weeks so he would have comfort in his short little life, but was gifted with a loving babycat that really wants to live a healthy and happy life!" says Gabriela. "He means hope, the belief we can always do better."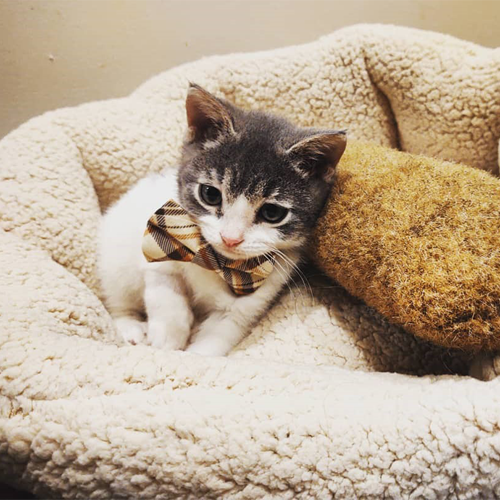 To learn more about this adorable cat, you can follow Teapot on Instagram.