Danna from Raf.kw, a rescue organization in Kuwait, was feeding a colony of homeless and feral cats with her rescue partner, Fay, during the summer of 2020, when she discovered one of the female felines had given birth to a litter of three kittens. "One day we saw her with little kittens at her side," remembers Danna, but the mother cat wasn't very affectionate with her offspring. "They were sick from a very early age which could be why she didn't accept them."
Sadly, the cat eventually abandoned her kittens, which isn't uncommon when an animal suspects their children won't survive. "We heard little cries coming from a parked old boat trailer," says Danna. "When we went over we saw three little terrified heads peeping out." While the young cats were too frightened for Danna and Fay to rescue them, the women behind Raf.kw began leaving food for the homeless kittens.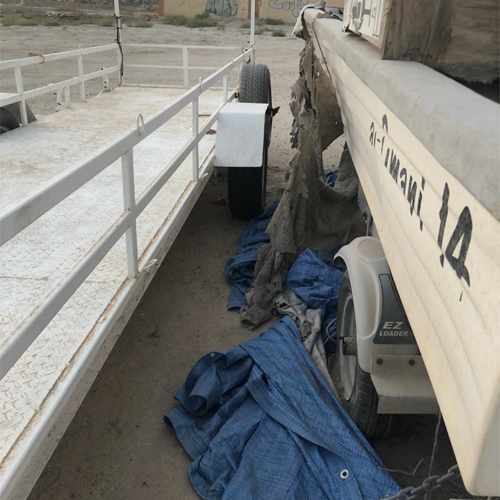 Initially, they wouldn't eat until Danna and Fay were well out of sight, but over time they became less fearful. "They saw we were not going to hurt them and one day when we showed up to feed the big cats, all three little kittens ran side by side to greet us," remembers Danna.
As time went by, they noticed one of the kittens had stopped eating and was much smaller than his litter mates, causing them to name him Button. "He was just as small as a button," says Danna, and it quickly became apparent Button had lost his appetite because he was very sick, so Danna and Fay decided they couldn't wait any longer to rescue him.
However, when they returned to the site with a crate, the diminutive black and white kitten was nowhere to be seen, and they feared Button had died from either illness or injury. Fortunately, they didn't give up, and eventually he reappeared. "A week later he emerged and he looked terrible," says Danna. "It was shocking. He was miserable and literally dying. You could smell the decay from his mouth a mile away. For the first time ever in six weeks, little Button came so close to us, like he was saying 'Please help me.' "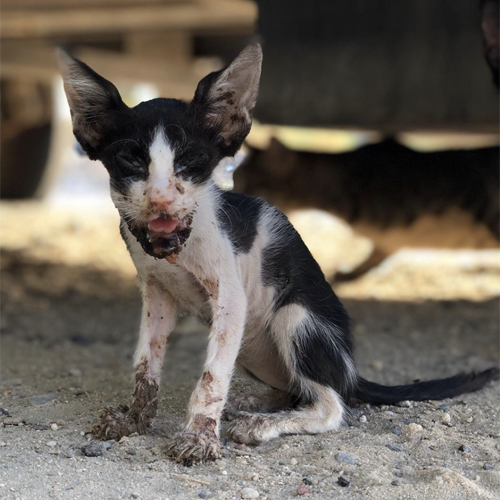 On August 26, 2020 — six weeks after they fed Button and his siblings for the first time — Danna and Fay rescued the young feline when he was two months old, even though they weren't sure how they were going to get him the medical care he so desperately needed.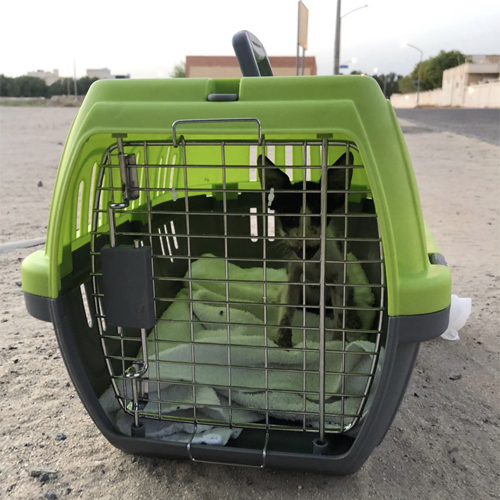 "We always say 'Never turn your back on a sick animal,' " explains Danna. "It was simple — if we didn't take him, he would die, as he would eventually starve to death and become weaker by the day."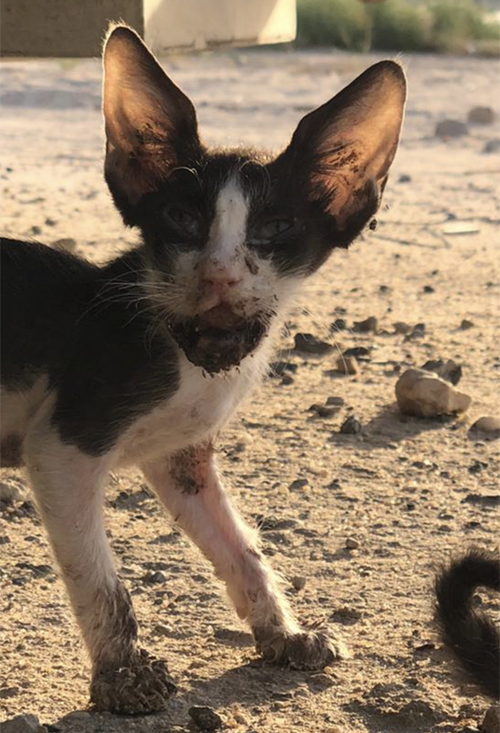 At the time, Button was so ill he was unable to even eat on his own, and he was eventually diagnosed with severe calicivirus, which had caused him to develop ulcers in his mouth that had become badly inflamed.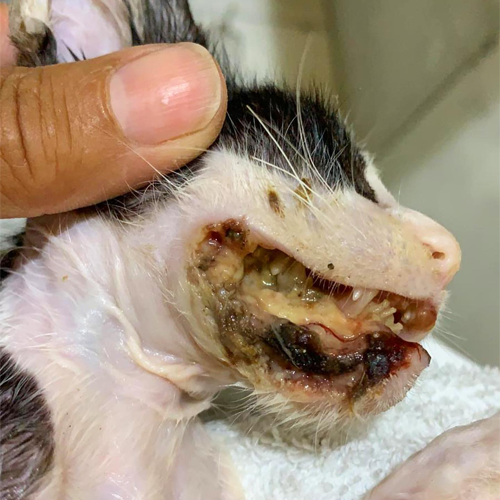 "He was also severely anemic and his glucose levels were extremely low when we took him to the vet," remembers Danna.
Button immediately began receiving treatment for his many medical issues, and while he had to be poked, prodded, and separated from his siblings, Danna knew she and Fay were doing what was right for the little cat.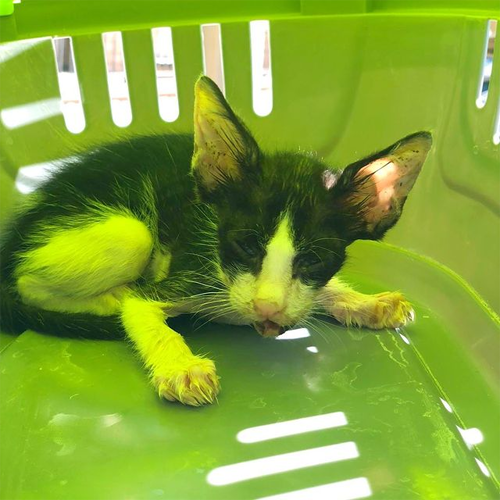 "You have to be cruel to be kind sometimes," explains Danna, "and in this case it was so worth it."
Even though it was touch and go at times, Button eventually recovered, and today he's doing great!
In fact, he's made such a remarkable transformation over the past few months, it's difficult to believe he's the same cat who could barely eat because of debilitating ulcers in his mouth. "He's such a sweet boy and because of his mouth issues before he looks like he has a constant little smirk on his face," says Danna. "It's the cutest thing."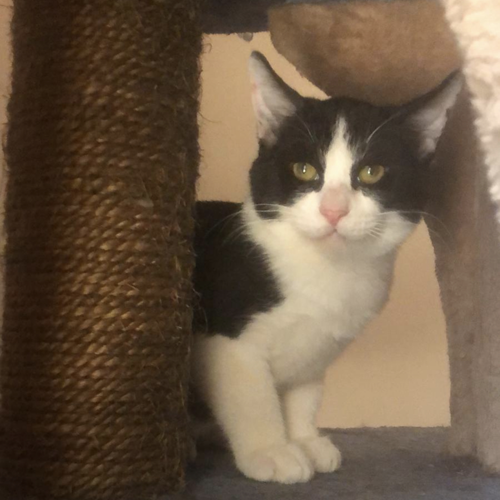 However, Button is a shy and timid kitten, most likely because of the difficult start he had in life, but he absolutely adores his fellow felines. "He's extremely gentle with other cats and wants to be friends with them all," says Danna, so she wants to make sure Button finds a forever home where he'll have at least one feline friend to keep him company.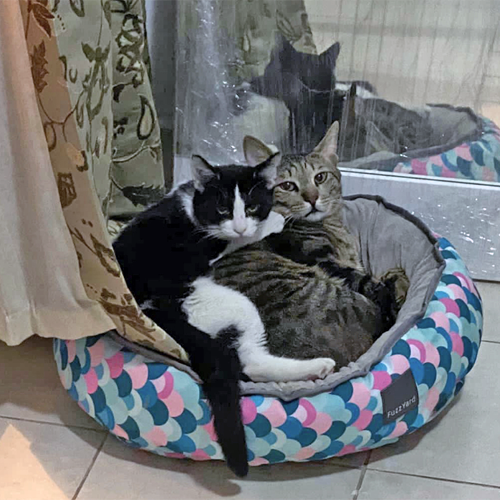 He also adores food, he loves to play with his toys, and he enjoys taking naps in his tree house. While Button can be affectionate with people, he's not a typical lap cat, so it's important for potential adopters to realize he can be shy and cautious.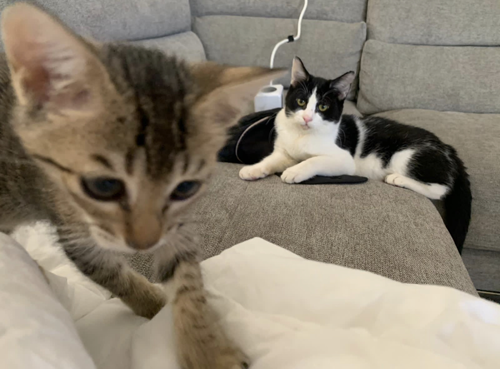 "If he wants loving, he will come to you!" explains Danna, and even though it might take some time, she knows the right home for Button is out there. "We want to find him the best family ever. His life is just getting started."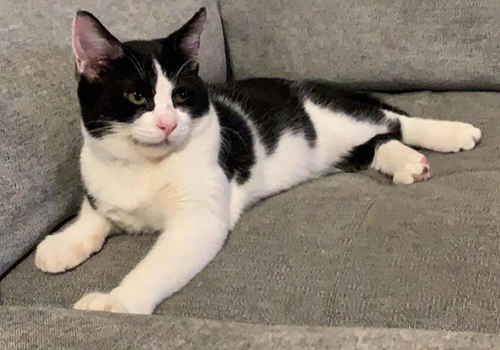 When this handsome black and white kitten finally finds his forever home, there's no doubt Danna and Fay will miss him terribly, but they'll never be able to forget Button and his determination to survive and beat the odds.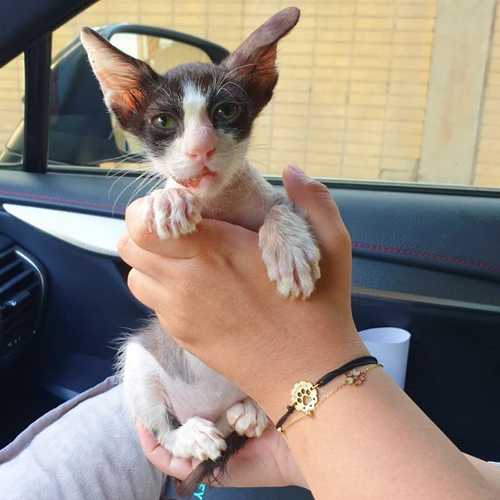 "We were told by so many people to put Button to sleep, but we refused," says Danna, because she and Fay both knew Button's best days were still ahead of him. "Just to see how much he's changed and how healthy he is now warms our hearts."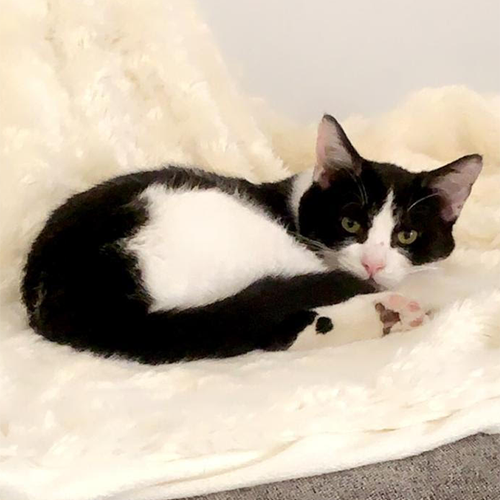 To learn more about this handsome kitten, you can follow Button on Instagram.
If you're interested in adopting Button, you can send a direct message to Raf.kw on Instagram.